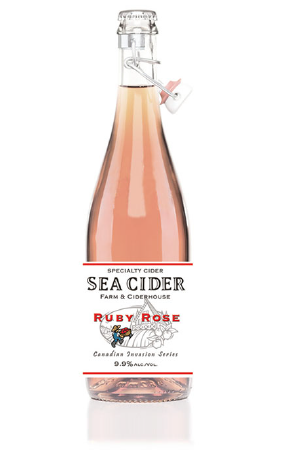 Ruby Rose
Ruby Rose is a beguiling vixen and part of our Canadian Invasion Series. She may be as aromatic as rhubarb pie, but her namesake is the merciless Rosa Rugosa, an invasive plant that threatens many coastal regions. Proceeds from our Canadian Invasion Series support efforts to combat invasive species in sensitive ecological areas.
SUGGESTED FOOD PAIRINGS
Ruby Rose pairs fabulously with light summertime meals and is perfect as a patio sipper. Consider sautéed prawns, a creamy brie, or candied salmon salad. It also pairs well with fresh fruits, salty snacks, and light desserts. Mix it with soda water to create cider spritzers or use it as a base for a unique sangria. Anything goes with Ruby Rose!