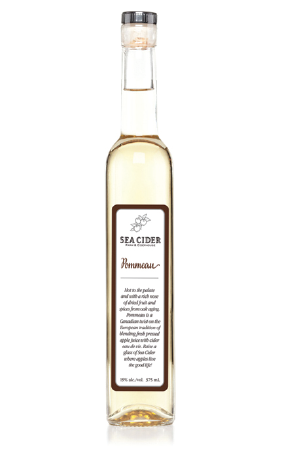 Pommeau
Our Pommeau, a still dessert cider, pays homage to French cidermaking. Certified organic Snow apples are used, which were the first apples brought over from Normandy in the 1600s and grown in Lower Canada (what is now Quebec). Once fermented to dryness, we send the cider to Victoria Distillers on the Saanich Peninsula to be distilled into a cider eau de vie. Once distilled, we blend this cider eau de vie with a juice reserve of French apple varieties grown at Sea Cider to achieve a high alcohol, aperitif-style cider. This blend is aged in bourbon barrels with the addition of Hungarian oak to impart colour and a hint of spice and tannin.
SUGGESTED FOOD PAIRINGS
Bold flavours – either very savory or very sweet. In Normandy served as an aperitif or palate cleanser between courses, but works well as a dessert cider in place of a sherry. Try with chocolate, hazelnuts, "drunken apricots"; also strong cheeses such as Roquefort.