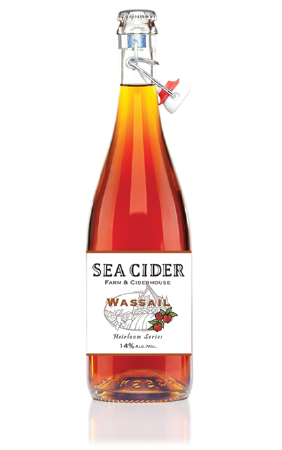 Wassail
Our Wassail spiced cider harkens back to the wassailing tradition of drinking spiced cider and singing to the apple orchard. Wassailing refers to the Anglo-Saxon winter celebration that involves drinking and singing to the health of an orchard; an ancient practice originating in southern England that is still performed at Sea Cider Farm & Ciderhouse today. The purpose of wassailing is to awaken the cider apple trees and scare away evil spirits to ensure a good harvest. Wassailing also refers to the tradition of raising a glass with good friends and neighbours in celebration of the season.
SUGGESTED FOOD PAIRINGS
This winter warmer is perfect just as is, or paired with your favourite seasonal dishes. The candied orange peel, gingerbread aromas and hints of clove and cinnamon make this perfect for pairing with sausages, sausage meat stuffing, roasted pork, duck and of course, turkey. A great fit for all your traditional sides too: garlic mashed potatoes, braised winter vegetables, and roasted turnips. The spices ensure it's also ideal with strong cheeses, apple pie, apple crisp, pumpkin pie and Figgy Pudding.