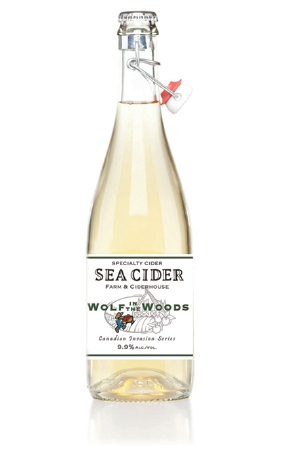 Wolf in the Woods
Botanically infused with hops and grand fir needles, Wolf in the Woods is a hard apple cider with a timberland twist. By combining grand fir needles from Sea Cider's forest and Pacific Northwest hops, we've created a unique union of farmed and foraged. Wolf in the Woods is here to tingle your senses with botanical goodness!
SUGGESTED FOOD PAIRINGS
The balanced botanicals of Wolf in the Woods pair well with salty and fried foods – try french fries and jalapeño poppers. We'd even tackle the spiciest Indian and Mexican dishes with this rainforest wonder!

Product Reviews
Justin Park
(Jun 9, 2022 at 3:56 AM)
Having worked many a year in the F&B industry, I truly commend artisans and their creative nature.
This Cider is spot on, not only with it's description, but as a unique and delightful; "Breath of fresh air."
Many see the word 'Dry' and it's typically, All In or No Thank You. This kind of 'Dry' - is a dry for all.
Refreshing, awoken, dry in the start; but dissipates quickly with a clean-fresh finish. (Toothbrushed feeling with benefits, the blissful kind 😌) With a 9.9 ABV. ... Well, enough said. Do drink responsibly with this Big Bad Wolf.
Well done Pig. Well done.
Justin Park
(Jun 9, 2022 at 4:11 AM)
*I do recommend sipping mid-tongue at start, best foot forward.